This is another track I decided to analyze in depth because it's been playing in my head lately. In fact a few days ago I found myself on the roadside spontaneously singing it, for at times I too feel "like a stranger in Moscow". But it was also upon doing so I realized that, outside of the chorus, I don't even really know the words to it. So it's like not knowing the words to one of your favorite songs is as good of a reason to research it as any.
Speaking of Michael Jackson (1958-2009), he was indeed a polarizing figure. I guess such is to be expected when you're the most-popular singular human being to walk the Earth during the 20th century. People are going to be all up in your business, and along with the good comes the bad and even the straight-up lies.
But one thing I will say about Michael is this. Even though he was hands-down the top musician in the world, he didn't come out with mediocre songs or drop half-ass collaborations just to make a quick buck. No, MJ put his all into his music career. In fact it has been said that part of the reason he died prematurely was because he overworked himself to death. So even though Stranger in Moscow (1996) came out like a decade after his heyday, you can still tell that he put his full emotion into the track.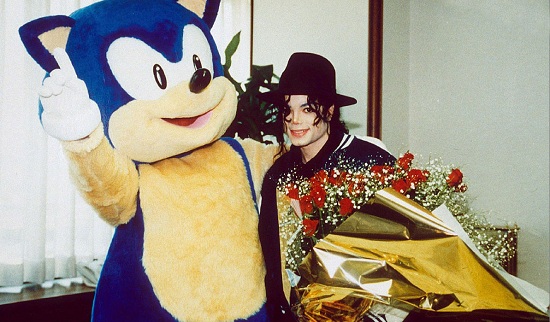 Who knew that Sonic, in his own way, contributed to the
creation of Stranger in Moscow?
MICHAEL JACKSON & SEGA
But with that being noted, here's an interesting fact. Brad Buxer, a composer who worked regularly with Micheal Jackson, has stated that at the "base" of the instrumental for Stranger in Moscow is actually music he and MJ put together to be used for the Sega's Sonic the Hedgehog 3 (1994). And this is something which Michael himself reportedly admitted to.
An older pic of Brad Buxer, the dude who is said to have helped
Michael Jackson create the musical basis behind Stranger in Moscow.
Buxer also worked with other classic Black artists like Stevie Wonder
and Smokey Robinson.
So why did Michael use chords from a song that he actually intended for a videogame? Well the main console which Sonic 3 was featured on was the Sega Genesis. And MJ, as implied earlier being a perfectionist, was frustrated with the quality of sound the machine could produce. So apparently the Moonwalker just got fed up one day and bounced on the project.
However it has also been put forth that the reason he behaved so was due to what he was going through at the time - something we'll get into later. But that being established, it is still widely held that some of the music he helped create made it onto Sonic, even if he wasn't credited. So if true, he apparently still retained enough control over what he did produce to use it on his own personal song also, most notably Stranger in Moscow but also quite a few others. And truth be told, according to the video embedded above, the ending theme to Sonic the Hedgehog 3 does sound, at one point, almost identical to Stranger in Moscow.

THE TEAM
However at the end of the day, whether Michael had help creating this track or not, it is only he who is credited as its producer and writer. The labels behind that put it out are Epic Records, Sony Music and MJJ Productions - the latter being founded by MJ himself. The song was officially released on 28 August 1997, and it served as the fifth single from Michael's double-disc project entitled HIStory: Past, Present and Fture, Book I.
The video to this track, which I guess you could say is perhaps the best parts of the song, was directed by an English photographer named Nick Brandt. And it's obviously the type of visual that's meant to be a work of art, one in which the viewer is tasked with interpreting what the images mean. But at the same time, combined the lyrics the video is pretty easy to understand. And as for me personally, I always thought the video was, you know, actually filmed in Moscow. But it was in fact shot in Los Angeles, which is like Michael Jackson's hometown. And that brings us to the actual meaning of the song.
THE LYRICS
Despite his aforementioned fame and wealth life wasn't all peachy for MJ, especially around the time Stranger in Moscow came out. For it was in 1993 when he was first formally accused of child-sexual abuse. These allegations took a serious and immediate toll on his career as well as health.
Moreover, you know everybody likes making fun of Michael. This was true even before these accusations came out, and the mocking did not let up while he was going through this ordeal. In fact in the aftermath, the media persecution of the King of Pop got a lot worse.
And no, they did not stop even after Michael settled with his accuser, Jordan Chandler, for a whopping $23,000,000 in early 1994. In fact according to the The Washington Post the entire ordeal remained the main story in the news until the O.J. Simpson Murder Trial of September, 1994. And as many readers can attest to, even well after Michael Jackson passed away in 2009 the media still hasn't stopped f*kin with him. So I guess you can say this was the negative effect of being as rich and mega-famous - and eccentric - as Michael Jackson was. Or stated differently he was never actually convicted of sexual abuse, even after a thorough and extremely-humiliating investigation. Moreover he richly settled the matter with the accuser. But regardless the media would not let the issue die down.
So in summation Michael was losing tens of millions of dollars in endorsements, even outside of the money he paid to Jordy Chandler. Also his health got all messed up. Then on top of that, people wouldn't stop making fun of him and prying into his private life. Moreover on even an even more-intimate personal level, as this song reveals, he was also in an exceptionally-lonely state.
According to the legend behind this song, Michael Jackson wrote it while he was indeed in Moscow. This was during September of 2003, while MJ was conducting his highly-lucrative Dangerous World Tour. And according to one in-depth account of his time there, despite being constantly mobbed by innumerable fans MJ was "as lonely as maybe never before". In the same article it has been noted that it was a "surprise" visit he made to Russia just "a couple of weeks after being first publicly accused of child abuse". Or stated differently, he likely already wasn't in the best of spirits even before he landed there.
Above is a short documentary on Michael's visit to Russia in 1993. It's pretty informative, despite being in Russian. You can see that wherever he goes, there's multitudes. Indeed MJ required a presidential level of security, even though he was in fact a long way from Starbucks.
Michael only seems to have one travel companion, some old Black dude that I don't recognize. And not for nothing, but your chances of making friends are likely minimized when you're like hiding your face in public and running from crowds. But at the end of the day, logically speaking nobody knows how it feels to be Michael Jackson other than Michael Jackson. Indeed Michael was rockin' surgical facemasks in public like a good 30 years before they became fashionable.
So with that in mind it doesn't seem that he actually had beef with the Kremlin, as the first verse of the track implies. Indeed even on the official Genius explanation of the lyrics it says that the "Kremlin", as used in the song, is meant to be symbolic of the powers-that-be, so to speak. But Michael does goes on to say in the second verse that he was being 'dogged' by the KGB. So maybe, considering that he was in fact accused of a heinous crime, the Russian security forces were conducting extra surveillance on him even beyond their already-infamous norm. And overall, on Stranger in Moscow Jackson partially comes off like a celebrity who wishes he could shed his fame. Using Russia as an example, he's tired of people always being up in his face wherever he goes.
And remember, once again, that the music video to this song was filmed in Los Angeles. So ultimately the phrase "stranger in Moscow" can be interpreted as allegorical language, as in the way Michael felt everywhere he goes. This was an individual who, as ironic as it may sound, suffered from intense loneliness. Indeed according to his own words he used to go out at night and randomly approach people in L.A., looking for a friend. And with that being said, take a moment to imagine walking down the street and some pinkish-looking Black dude with like relaxed Jheri curls, indeed Michael Jackson himself, suddenly steps to you, trying to spark a random conversation. You'd probably be left speechless, no pun intended.
So analysts of this song who look past its geographical origins understand that MJ was singing of his overall mental/social state at the time. He had indeed experienced a "swift and sudden fall from grace" which had left him perturbed. Or perhaps another way of looking at it is that, despite how many fans Michael may have had, he felt as if the world had turned on him in a way. But at the end of the day, at least we can say that he got a dope song out of it.
CHART PERFORMANCE
Stranger in Moscow made it onto the Billbaord Hot 100 yet only peaked at number 91. To put that into perspective, that's the lowest any Michael Jackson song which ever appeared on the Hot 100 has ever charted. But it did reach number 50 on Billbaord's Hot R&B/Hip-Hop Songs chart.
But more importantly, Stranger in Moscow did manage to top the charts in the Czech Republic, Italy and Spain. Additionally it made it all the way up to number four on the UK Singles Chart and charted in over 20 countries overall. It also re-charted in handful of European countries in 2006 (again reaching number one in Spain) and in 2009, in the latter case presumably after MJ's passing. But it didn't sell a gazillion copies like some of his other hits. And perhaps in this particular instance that wasn't necessarily his goal.
But that being said, as implied earlier the negative press he was receiving affected its performance. So it's pretty amazing that it still did as well as it did, proving that verily it is a quality track and that at the end of the day the Moonwalker was a force that couldn't be denied. Indeed HIStory itself sold in excess of 20,000,000 copies.
THE VIDEO
I had to give another shoutout to the music video because now that I think about it, it's my favorite Michael Jackson. The audio and visual combine to tell a comprehensive, easy-to-follow story, and even to this day I would say the aesthetics are beautiful. This track has stood the test of time better than most of Michael's bigger hits. And here's an interesting fact - the slow motion they used in it is said to be a technological predecessor to the bullet-time effect used in The Matrix (1999).

CONCLUSION
I sympathize with what Michael Jackson was going through when he came out with Stranger in Moscow. No, I'm not trying to insinuate that I know how it feels to have thousands upon thousands fans, unlimited dough and still be lonely. But one thing this song helped me realize is that chronic loneliness is chronic loneliness, no matter who is suffering from it.
Michael Jackson chillin' with one of his homeys, Hollywood child actor
Macauley Culkin. It was pretty obvious that Michael was not comfortable
in his natural skin which may have logically, in various ways,
contributed to his loneliness.
Indeed as the old saying goes, "it's lonely at the top". And truth by told MJ was too rich and famous to be hanging out with other Black celebrities. In fact I would say that was part of the reason he tried to make himself White, because his success had reached a point where he could no longer identify with his own people, so to speak. But maybe, just maybe he should have tried a little harder. After all, you can't spend all of your time hanging out with like Elizabeth Taylor and Macauley Culkin and sh*t. So conclusively, I guess if there's one ultimate lesson to be learned from Stranger in Moscow it's that even enviable success has its disadvantages.